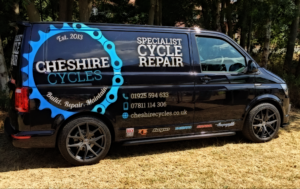 After years of working and competing in the cycling world, Cheshire Cycles business owner, Mike Carlin, felt there was a need for a professional repair service in the area. Our ethos is, and always has been, one of a personal, one to one level of customer service, along with welcoming, helpful and knowledgeable staff who can engage with clients of all levels of ability.
Now in its 8th year, Cheshire Cycles is recognised as one of the most professional and impressive bike shops in the north of England servicing upto 150 bikes per week through its busy workshop.
Mike Carlin – Owner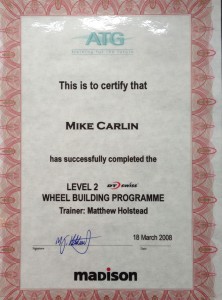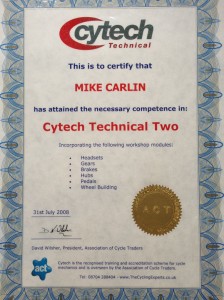 Mike has come from a long background of competitive cycling. Starting in 2002 by entering the Tyketrial Regional events, Mike moved up from intermediate to expert class within 1 year. By 2004 Mike was travelling all over the UK and into France to compete, entering the world level competition in Fontainebleau named "Koxx Days" and was improving month on month. 2006 saw the competitive end of bike trials for Mike as he worked towards opening the shop.
Mike achieved his industry standard Cytech Level 2 qualifications during his second year working at the store alongside generally getting out and about on the trail.
Dave Copestick
Dave has been with Cheshire Cycles since 2015 and has successfully worked hard to become our head mechanic.
He is Cytech Level 2 qualified and is able to repair complex issues and delivery high quality servicing on all bikes from entry level to race spec machines.
Ash Howells
Ash has joined the team in 2020 as our second mechanic supporting Dave in the workshop assisting in all repairs and servicing. As an engineer, Ash is able to complete all levels of servicing applying a wealth of knowledge to ensure high quality is delivered
Dieter Horrocks
Dieter has joined the team in early 2021 as a full time mechanic having previously been at mechanic positions in two other reputable bike shops over many years. As Cheshire cycles continues to expand, Dieter will be part of the busy workshop team delivering high quality servicing and repair.
David James
David has joined the team in early 2021 as our Corporate Manager to deliver all business to business needs and requirements. At the forefront of our Dr Bike program, David is able to offer companies a solution to cycle travel needs in all forms including repair events, travel advice and infrastructure improvements. David is Cytech 2 qualified